Consulting and recommendation preparations in terms of illegal encroachments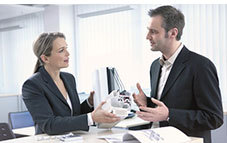 It is not possible to organize security effectively without appropriate knowledge. Our company provides consulting services and gives recommendations to our clients who would like to prevent illegal encroachments. Qualified employees will hold an audit and assess the existing protection system to comply with the highest standards.
Benefits of consulting
Our clients will receive a detailed explanation of the legal provisions regarding the protection of their property which will give a clear understanding of the legitimate actions allowed in case of emergency. With this knowledge and in case of any violation on the property it will be possible to resolve a problem within the framework of the laws and without any abuse of authority.
Our experts will check the premises and do the following:
- Prepare a list of potential threats to the existing security systems
- Assess the efficiency of access control
- Recommend measures to improve the situation
After consultation and review of the current protection status and its effectiveness it will be possible to upgrade the existing system and improve the security levels.