Private security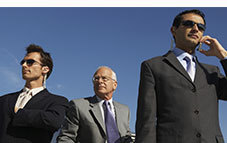 The main goal of a private bodyguard is to protect life and health of a client. Therefore, in order to prevent any possible threat each security member of Security company Valkyrie LLC possesses all essential skills, knows the art of close combat and is able to deal with firearms and other classes of weaponry.
In private security, we are offering the following services:
Pick up at the airport or at the railway station
Armed or unarmed bodyguard
Permanent or one-time security escort in a car with armed bodyguard
Operational procedures of private security in Security company Valkyrie LLC
Our company operations are based both on security practice of the Russian Federation and our own methods invented and perfected during the years of experience in the security field. We are using an individual approach for every client, taking into consideration personal factors. To provide top security levels, we are creating an individual security scheme depending on the need and requirements of our clients.
Based on an estimated threat and the number of people requesting private security services, we determine the quantity of bodyguards needed for each case.
All our employees are trained in a way to further develop their proficiency, they can evaluate the situation and react accordingly to every abnormal situation. All our employees are keeping themselves physically fit and pass psychological tests on a permanent basis.
We are offering several types of private security service:
Discrete security when the bodyguard is acting seamlessly merging with people around. Using this type of security our client does not show that he is guarded.

Explicit security when the bodyguard is clearly seen. In this case the appearance of the bodyguard is very important for him to scare off potential intruders.
The mixed type is used to detect possible surveillance and to strengthen the level of security.
Private security services can be scheduled by determined hours, during working hours of a client or provided 24 hours per day.
Price list for private security services
| | | |
| --- | --- | --- |
| Services | Prices, RUB/hour | Timing conditions |
| Pick up at the airport or at the railway station, armed bodyguard in car | From 1,000 | 3 hours service minimum |
| Armed bodyguard in car | From 900 | 3 hours service minimum |
| Armed bodyguard | From 350 | 1 month minimum |
| Unarmed bodyguard | From 280 | 1 month minimum |
| Permanent car escort by an armed bodyguard | Upon request | 1 month minimum |
The final price depends on the number of security guards involved, the type of the estimated threat and others.
Please see our price list in the tab "Prices".
To book a private security service please call +7 (812) 387-83-80, +7 (812) 387-03-61 or send your request through our website.