Physical security of facilities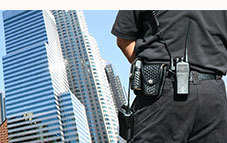 The main area of our business is site security for private, corporate and governmental premises.
Security company Valkyrie LLC has been providing all types of security services for more than 25 years. Vast experience, accumulated during these years, gives us the opportunity to predict almost all possible risks and threats already on preliminary stages of the concept elaboration for each property.
What is our goal?
The main goal of our team is top security levels for our clients and their properties. To provide high-level services we use all means and methods available to us: professional equipment, well-trained and efficient staff, best practices and latest developments in the security sector.
We guarantee our clients absolute confidentiality and full focus on their success. An individual approach and attention to the special features of every single property – this is our attitude.
The standards for providing our services are high and do not depend on the site size or level of difficulty.
We guarantee our clients full safety of their house, office or other premises by applying all possible legitimate methods of protection.
Key principles of Security company Valkyrie LLC
Interests of our client, his reputation and safety - this our top priority
All information is fully confidential not only during cooperation but also after our services have been provided
Full reliability, guarantee of stable security of the business and the clients` properties
High efficiency and proper reaction on any signs of threat
All security actions are in full correspondence with the laws of the Russian Federation
We are working as per an individual security scheme created for each client.
We can provide the following jobs depending on the size of the premises:
Conduct security audit of residential, industrial, commercial or administrative buildings; identify potential threats and give recommendations for their elimination

Provide safety of material, trade and financial values, real estate, industrial equipment, transport and other properties of the client

Implement a access mode on the premises as per the agreed categories of employees, visitors or vehicles

Provide internal policies in terms of discipline, access schedule and zoning on the security coverage area
Duties of our staff include:
24-hour shifts
Security checks of the area

Suppress the breaches of internal security rules by unauthorized persons or personnel

If necessary provide security actions with the assistance of our Rapid Response Team, or upon our client`s request involve additional force of the Rapid Response Team of our holding
Recruitment and training for professional security team members
Our professional team is a pledge of effective work. Starting from the recruiting we are paying the highest attention to the training provided to our staff. Before joining our team, all candidates pass professional and physical suitability tests, and we carefully check the biography of each candidate.
We do not have random people in our team. All our employees are reliable and professional people whose skills guarantee the safety of our client or his property.
Training of our employee includes:
Regular sports classes to match all necessary physical requirements for employees of security companies

Awareness of all laws, legal norms, standards and procedures of the Russian Federation in terms of security

Awareness of new developments in security technologies
Internal education focused on upgrading skills and knowledge
Through the above-mentioned activities all our security team members are educated in compliance with all standards of the Russian Federation.
Technical facilities and equipment
For each case, all our security team members are provided with appropriate uniforms, communication devices and other special means to ensure law and safety.
Our employees can work in office attire or in special uniforms adopted to the client`s needs. The outfit can include a service weapon, a protective vest or special items such as rubber batons, electro shockers, handcuffs and metal detectors.
All our employees are provided with the needed reliable technical equipment to communicate within the premises and with the company management as well as to request the support of the Rapid Response Team.
Quality control
We are conducting permanent audits to provide high efficiency in our work. Mystery calls and visits are held randomly on a permanent basis. The management of Security company Valkyrie LLC is always in contact with our clients or their representatives to follow up on the quality of the provided services. All feedback is directly passed on to the security team members. In case of any discipline violations required measures are applied including dismissals.
Through such tough measures, we can promptly identify unconscious employees and apply disciplinary actions.