Console safeguarding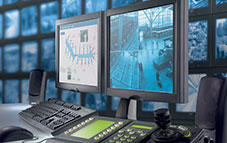 Console safeguarding is a modern system of security and fire safety when the Rapid Response Team ensures the safety of objects like shops, restaurants, banks, offices, businesses, hotels, private houses and cottages. In this case, special devices that transmit the signal "Anxiety" are installed on the panel of the centralized security and are activated in case of unauthorized access, fire or other accidents.
Main principles of console safeguarding
Console safeguarding ensures the "Anxiety" signal to be sent to the monitoring station. After pressing a special panic button or after detectors are activated, the signal is transmitted via a main GSM channel and duplicated via additional communication channels (internet, telephone lines or radio frequency). If the main channel is out of order, the system will automatically transmit the signal through one of the additional channels. High-tech equipment is installed in the monitoring center and on the premises itself to insure reliable protection and 24-hour control.
Once the signal of the console is received in the monitoring station a professional Rapid Response Team arrives to the place within 7 to 15 minutes. The team comprises of specially trained staff with appropriate vehicles and necessary equipment (body armor, communication equipment, weapons). They are able to fully control the situation and provide the needed physical and psychological support.
Advantage of Console safeguarding of Security company Valkyrie LLC
Our company executes professional installation and maintenance of security systems including console safeguarding. Please find below the advantages of this type of security system:
Automatic control of the premises 24 hours per day
Reliability of all technical equipment, alarm and communication systems due to duplication and backup of the channels
More advantageous option compared to physical security
Affordable pricing, flexible tariffs for different types of organizations
No human factor which guarantees reliable work 24 hours a day
Professional Rapid Response Team which arrives at the place in the time as agreed in the contract
Console safeguarding is a modern and reliable way of keeping private properties, company operations and people in safety. Due to a collaborative cooperation between engineers and the Rapid Response Team as well as a good coordination in processes of technical and security equipment usage we provide high levels of protection from different types of threats and negative effects. Your private property and business are under our permanent reliable security.