Installation and maintenance of a video surveillance system
Установка и монтаж систем видеонаблюдения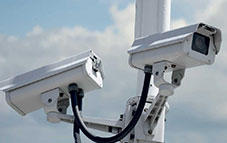 The installation of a video surveillance system is an integral part of modern security measures. Modern video surveillance systems are used to provide visual monitoring on the territory of malls, business centers, hospitals, banks, homes and others.
Advantages of video surveillance systems
The installation of cameras and special video equipment allows for making continuous video recording on a digital recorder that makes it possible to prove the fact of an offence.
Modern video systems give the opportunity to control the situation via the internet in real time so you can monitor the work of staff, property and confidential information safety at home or in the office, the situation in the warehouse or the safety of your family. It is possible to install video surveillance systems to control few premises at the same time, for example shops or restaurants of one chain.
System installation
The installation of a video surveillance system for the protection and monitoring of a surrounding area as well as the internal space is common practice for a lot of organizations. It is not only businesses that work with different types of material assets (banks, shopping centers, warehouses, workshops) but also a variety of public, commercial and non-profit organizations (business centers, schools, hospitals, state institutions, etc.) for which it is necessary to ensure the safety of property and visitors.
All this imposes certain specifics on the system implementation. Security Company Valkyrie LLC offers clients the installation and maintenance of a video surveillance system which will be specifically designed for each site. A video surveillance system is the most convenient and effective way of monitoring and protecting as it allows to cover all weak areas and decreases human involvement in the process which also allows you to save money!
Installation and maintenance cost
The cost of installation and maintenance of a video surveillance system is calculated individually for each site and may vary depending on many different factors such as:
Size and space of the site
Size and space of the surrounding area
Number of entries and exits
Type of equipment and its complexity
Methods and range of video transmission
Feasibility of a particular monitoring scheme
Structure
The video surveillance system is a set of special equipment designed for video data processing and transmission, recording, storage, video playback and display. Such systems can be simple and consist only of few elements. More complex systems contain a huge number of equipment and cover wider area. Besides that, video surveillance systems may have different purposes, recording abilities and other parameters. Depending on the type of operations of an organization and the characteristics of the property the installation process may vary. However, the following elements will always be part of the system:
A video camera is special optical equipment designed to convert the image into an analog or digital video signal for further transmission and recording. Depending on the purpose and design the following types exist: outdoor and indoor, mini, vandal-resistant, dome models, cameras with different types of lenses, methods of data transmission (IP and TV), etc. Installation of CCTV cameras is usually executed at the first stage of work done in the premises.
Video data transmission channels are a set of hardware and software designed for the image transmission from the camera to the recorder and monitor screens. Recently the most efficient data transmission channel is IP-equipment since it is easy to install. It allows transmitting data faster by using the internet, including wireless transmission.
Recorder, storage and playback devices. Depending on the type of the transmitted signal (analog or digital) it can be video recorders with a tape (almost not in use nowadays), digital video recorders (DVR) and special video servers, the installation of which is computer-based (hard drive recording).
Video display equipment which includes different types of video monitors and televisions.
There is a great variety of video equipment available in the market. To ensure reliable security it is better to trust professionals to choose and install a video surveillance system so they can take into account all nuances and possible weaknesses.
Analog video surveillance systems from Security Company Valkyrie LLC
There are many organizations which use analog video surveillance systems. The main advantage is its high reliability at low installation and maintenance cost. The range of equipment is very wide and allows solving almost all issues.
Advantages of an analog video surveillance system
Low cost of equipment due to mass production and low-cost components usage
High reliability due to technical simplicity of the equipment and method of record transmission
Difficulty of image forgery which allows using the records from analog cameras as evidence in court
Disadvantages of an analog video surveillance system
Poor image quality due to limited capacity of the analog equipment

Rather complex installation due to the necessity of power cabling and transmission signal lining

Difficult to expand the system: in order to add new video cameras it is necessary to lay new cables and replace DVRs or even reformat the system completely
Digital video surveillance systems from Security Company Valkyrie LLC
IP-surveillance systems are based on advanced network technology, are designed to link individual components and provide high-quality image resolution. Image resolution is only limited by technical capabilities of the selected equipment. Moreover, digital systems have several additional functions in comparison to analog systems.
Advantages of a digital video surveillance system
High image quality of HD or even Full HD standards because of no technical restrictions on frame rate and camera resolution which allows to receive more information from the record

No cables for record transmission to the computer

Possibility to make changes to the current configuration of the system without replacing components within the local network

Possibility of remote access to the system

Possibility to expand the controlled area by using existing communication channels
Disadvantages of a digital video surveillance system
Digital image can be altered which dramatically reduces the credibility in court
High cost in comparison to the analog system